BNP023 - BNP DEATH THREATS IN KITCHEN COUP ATTEMPT
BNP official Mark Collett questioned over alleged threat to kill Nick Griffin
Police arrest publicity director accused by BNP leadership of plotting 'palace coup'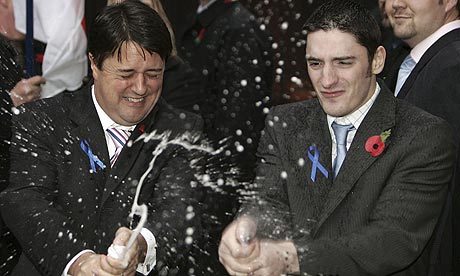 The
BNP
has been thrown into turmoil weeks ahead of the general election after a senior party member was arrested for allegedly threatening to kill
Nick Griffin
.
Key party officials have been summoned to a meeting tomorrow to discuss "urgent organisational matters" after Griffin and colleagues made statements to police resulting in the BNP's publicity director, Mark Collett, being detained on Thursday.
Collett, 29,
had been due to contest Labour MP David Blunkett's Sheffield Brightside seat
in the election but has been stripped of his position within the party which accused him of conspiring to launch a "palace coup" against Griffin.
The BNP alerted members to the crisis on Wednesday. In a message to party organisers, the party said its internal security team had been investigating "alleged financial irregularities" relating to leaflets and publications, the "leaking on to the internet of sensitive party information" and "feeding lies to certain anti-BNP blog sites" for several months.
"As a result of this investigation, a very serious matter has been uncovered," the memo said. "Earlier this week, the police were made aware of very serious allegations potentially affecting the personal safety of party chairman Nick Griffin MEP and senior management/fundraising consultant James Dowson. Formal statements have now been made to the police, including by Mr Griffin."
The message said it had been necessary to act immediately "to ensure the safety of those at risk".
The timing of the row is a further blow to the BNP as it looks to build on success in last year's European elections by winning its first seat in the House of Commons. Last month the party's membership policy
was ruled to be discriminatory
, despite the BNP having
removed a whites-only clause
in February.
The BNP said it was unable to provide further details of the alleged threat to Griffin – who
is standing against Labour's Margaret Hodge
in Barking and Dagenham – and Dowson for fear of prejudicing legal proceedings.
The memo continued: "Since political, as opposed to allegedly criminal, conspiracies are not illegal, we are able to say that Mark Collett was conspiring with a small clique of other party officials to launch a 'palace coup' against our twice democratically elected party leader, Nick Griffin, and that in order to create the artificial climate of disillusionment necessary for this to stand any chance of success, lies and unfounded rumours have been spread, and were planned to be spread much further."
Officers asked Collett to attend a Humberside police station last week. A spokeswoman said: "A 29-year-old man was arrested on Thursday on suspicion of making threats to kill. He was interviewed by detectives at Humberside police and he has been released on bail pending further inquiries. The investigation was initiated as a result of a complaint by the member of the BNP."
BNP regional organisers and key officials have been asked to attend an "urgent briefing meeting" tomorrow to discuss the events of the last few days and the party's future plans.
A spokesman for the anti-fascist organisation Searchlight said rows over finance, particularly Griffin's European expenses, had led to the conflict. Griffin and Andrew Brons were elected to European parliament in June 2009 but have been criticised in recent weeks for failing to publish details of their spending.
"Nick Griffin is constantly claiming he is the leader of a moderate, non-violent organisation," the Searchlight spokesman said.
"It is difficult to see how he can square that assertion with his statement to the police that his own head of publicity has been plotting to kill him."
The Guardian attempted to contact senior figures within the British National party, but none were available for comment.
I do not believe that there is EVER a morally acceptable contingency where a vote for The BNP is acceptable.
A vote for The BNP may well be the lesser of two evils but I consider it a vote for evil on any occasion.
NEVER FORGET that The BNP has failed/refused to repudiate its association with White Supremacist Extremists and the murder of some 4-5,000 mostly young men BECAUSE they are coloured - including an elected Black Mayor January 2008 & a Mexican American 2009. Similarly they have failed to renounce their past association with extreme anti Judaism.
To VOTE BNP is to Vote for Evil.